Biographies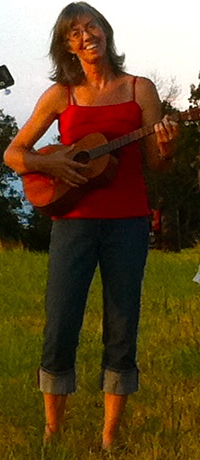 Joanie Green: Joanie hails from Oklahoma, where she grew up singing in the shower with her good friends and name-mates, Joan Baez and Joni Mitchell. She couldn't be happier that her sweetie lured her to Arkansas to find the other Sugars and bring her singing out of the shower at last. She is eternally grateful to her teachers at the Ozark Folk Center's Folk School, Ginny Hawker, Alice Gerard, and most dearly, Sara Grey, who has become both mentor and beloved friend. In her other life, Joanie is a mother, a wife, and a play therapist, counting herself rich that her days are filled with the people, work and play she loves. Kind of makes her feel like singing…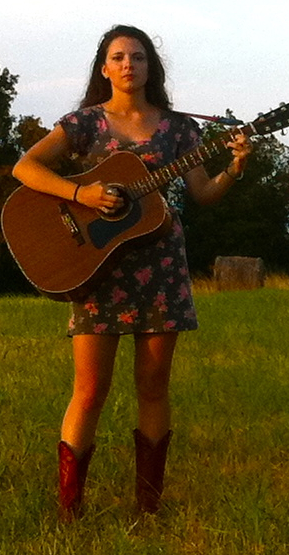 Marya Mckee: Marya is not your typical teenager. She was born in Fayetteville, Arkansas in 1993 and was raised by the best mother and father in the whole world. They taught her to be herself and to always be open to new experiences from an early age. That is why Marya has such an array of interests. She rides horses, stars in plays, listens to every kind of music there is, crawls through caves, loves kayaking and camping, and watches and quotes movies constantly. She dances through life. And that life is full of song. There is not a moment where Marya isn't singing, either out loud or in her head. And from this singing she found her way to her other three mothers whom she loves very much. They have seen her at her best and her worst, and are always there to offer her love when she needs it the most. She has laughed until she cried and cried until she laughed with these women, and has enjoyed every minute of her time with them.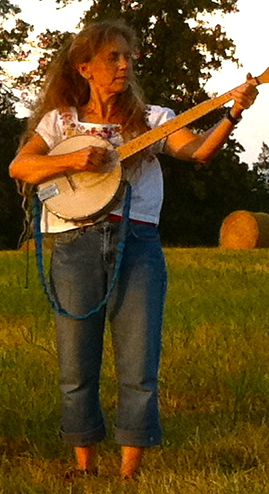 Mim Heinrichs: A few years back, Mim saw a Mary Englebreit thank you card on a store rack.  It was a picture of a delightfully rag-tag young woman with her feet planted firmly in the grass, her arms spread open wide and her head thrown back, mouth open and shouting to the sky.  She bought a whole box of cards.  But it wasn't until she sat down to write the first one that she realized why the whimsical drawing had attracted her so much.  She suddenly understood that this was exactly how she thought about her dad.
Every childhood morning, she would wake up before it was light to the sound of her dad whistling and singing in the kitchen.  He would already have read the paper & completed the crossword puzzle, & would be in the midst of cooking breakfast.  It was her dad's way of placing his feet firmly on the floor, spreading his arms open wide, throwing his head back and shouting to the heavens, "Thank you, thank you, thank you, for one more glorious day on this earth!"  And that was how he lived his whole life.
Perhaps her greatest piece of good fortune in life (besides her three amazing sons!) is that she inherited that note of joy and carries it in her heart every day.  As a child, she "put on plays" and sang show tunes from the 50's & 60's; when she went off to college, she sat in her dorm room stairwell (such good acoustics!) and sang the wonderful tunes of Joanie Mitchell and Joan Baez; when her babies were born, she sang them to sleep with Irish lullabies; and when her dad was suffering from Alzheimer's, she sat with him and marveled that even though he could no longer put words into a sentence, he would sing "You Are My Sunshine," and they would sing together.  And now…and NOW, she has the amazing luck to be singing with the three other wonderful women who are "Sugar on the Floor."
When she isn't singing, she is teaching upper level high school Spanish, and "no one gets out of [her class] without singing the blues!"  She suspects that 20 years from now, you could stop one of her students on the street and ask for a chorus of "El Carro de la Familia," and they'd still be able to belt it out!  Her other passions are dancing (Cape Breton step dance, flatfooting, flamenco, & international), reading books (real, made-of-paper books), gardening, chickens & travel. She has incredible friends, family and pets who make her life rich beyond measure, and three unbelievably wonderful sons (with awesome sweethearts) who light up her life every day.  She lives in West Fork, Arkansas, where she waits, expectantly, for grandbabies to spoil, and is thankful every morning for one more glorious day on this earth!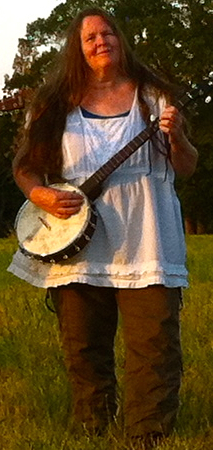 Julie Minkel:
I'm not sure when I began singing for the pure joy of  it…maybe with Trini Lopez's "Lemon Tree"  as a preschooler,  Peter, Paul, and Mary, throughout high school, with Joni Mitchell, in my twenties,  or with "Annie," as my boys pretended to be orphans, scrubbing our porch steps …The true power of my voice was discovered as my daughter Emily and I belted out songs in the car with LeeAnn Rimes.. and sang the songs from "Wicked" for the six hundred mile drive home from seeing the performance in Chicago (devouring a case of water, as well as miles of interstate.)
I do know singing is the secret to my sense of well-being. I have been a member of a wonderful women's singing circle, Harmonia, for the past 12 years, later sang with the Inspirational Singers, at the U of A, and now, am elated to have been given the gift of singing with my dear friends in Sugar on the Floor.  They accuse me of "singing around…"  I tell them they are the secret to my eternal youth.  There is such joy in singing with Mim, Marya, and Joanie… merging to the point where I can no longer hear our separate harmonies, but only "One Voice."
With love and a song, the possibility for adventure is endless.  I have a limitless supply of both.  I've been in love with the same man for the last 41 years, with my 4 children, (and now their partners,) my 4 granddaughters, with these Ozark Mountains, and my work as a play therapist…add to that dear friends, sisters, brothers, nieces, nephews, grandnieces and nephews, and an 88 year old mama who models courage and resiliency to me daily, and life, quite simply, ''is a song."


* We'd never be able to do what we do without our amazing support team: Steve Green, Pete Howard, Alice Mckee and Corrigan Neralich. Thanks for being there in so many ways!!