Performance History
Performance History

1. Bathrooms, everywhere. Have you ever noticed how great the acoustics are in bathrooms? We're trying to think of a way to do a bathroom concert tour. If you have any ideas, let us know ☺

2. Ozark Folk Center, Mt View, AR This past September was our 3rd year to perform at the ACDS Country Dance Weekend. We like to team up with Steve Green & Pete Howard and do a variety show…singing, dancing, fiddling, hand clapping, foot percussion…and lots of laughter! Also at this event, we were invited to perform with Aubrey Atwater, visiting artist from Rhode Island.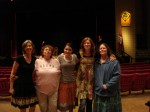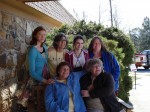 3. Ozark Folk School, Mt View, AR. We had the honor to perform with Sara Grey, world-renowned traditional singer, when she taught a singing workshop in March 2009.

4. Historic Arkansas Museum, Little Rock, AR. Performed with Sara Grey and son Kieron Means on their U.S. tour in March 2010.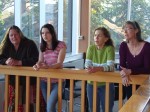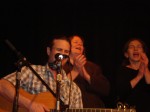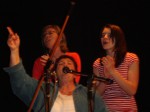 5. Hindman Settlement School, Hindman, Kentucky. Performed with Sara Grey as well as a solo performance during Family Folk Week, June 2010.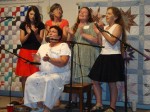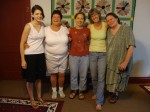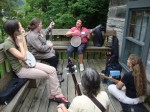 6. Martin Luther King, Jr. Memorial, Memphis, TN. An impromptu performance which turned out to be the highlight of our trip. We stood in front of this remarkable memorial & sang "Rosa Sat" with a group of African-American women we met there. Our tribute to Dr King and his dream for all of us.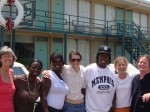 7. Circle of Life Hospice. During the Christmas season of 2009, we sang for the patients in this lovely facility. We hope that our songs helped bring a measure of peace to the last stage of life.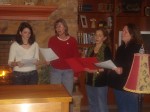 8. Puppet Festival in the Park, Fayetteville, AR. A glorious outdoor performance in the fall of 2010, with an eclectic program of ballads, kids' songs and more. The first time we added guitar, cajón, banjo, flatfooting, & foot percussion to our performance!

9. Mt Comfort Fall Festival, Fayetteville, AR. A harvest celebration in fall 2010, with pumpkin-painting, chili contest, cake walk, and songs for the whole family. What an amazing little church doing great things for the community!

10. Farmer's Market, Fayetteville, AR. One of our favorite places to show up and sing on Saturdays in the summer. We get to buy fresh, local produce, see all our friends, and share our songs. What could be better?